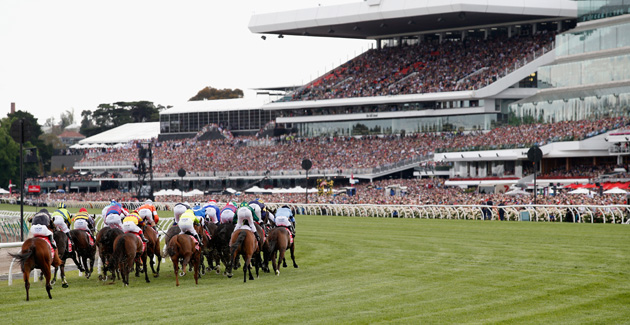 No sporting event can equal the Melbourne Cup, saying its Australia's race that stops the nation is an understatement. It should be more accurately called the race that stops two nations, as many Kiwis and Australians literally stop whatever they're doing to watch the race on tv or computer. The national television audience peaked at more than 3 million while online views rocketed to 350,000 on cup day. Melbourne Cup event starts at 3pm on the first Tuesday in November. It is conducted annually by the Victoria Racing Club on the Flemington Racecourse in Melbourne Victoria. Horses from all over the world come to Flemington to compete. It's the second riches 'handicap' race in the world with A$6.2 million (US$4.4 million) in prize money.
The Melbourne Cup is deeply ingrained in Australian culture and history.
The first race was held in 1861, and by 1865 it's already a half holiday for public servants and bank officials. It was in October 31, 1873 when it was announced in The Gazette as civil service holiday. It is a public holiday in Melbourne and some parts of regional Victoria. And from 2007 it was observed as a holiday in the entire state of Victoria. The holiday spirit extends to other capital cities, inspiring workers in Sydney, Adelaide and Brisbane and beyond to call it a day when the race starts.
Melbourne Cup Carnival hosts six incredible racedays with food, wine, fashion and first class racing truly an experience not to be missed. These popular spectator events  attract more than 110,000 people, dressed in traditional formal raceday wear and others in amusing costumes attending the races. It reached the 100,000 mark for the first time in 1926. The record crowd happened in 2003 with 122,736 racegoers, because of this a limit was placed on the Spring Carnival attendance at Flemington Racecourse on 2007. The racegoers are then required to pre-purchase tickets.
No longer just about the horses, the Melbourne Cup is now a high profile event with politicians, business elite, sports heroes, glamorous Australian and international stars descending on Flemington Racecourse. The fashion on the field is one of the features of the Cup. It's a chance for the ladies to wear hats or fascinators and gowns, and for gentlemen colourful suit they've been saving for special occasion.
Melbourne Cup fashion has a colourful history. In 1965, British model Jean Shrimpton shocked the nation when she attended the race wearing a minidress letting the world have a glimpse of her knees which made headlines around the world. That incident put Australia on the map internationally in terms of fashion. Since then, the Melbourne Cup has been a fashion leader. Raceday fashion has drawn much attention as the race itself, with substantial prizes awarded for the best-dressed man and woman. It's an opportunity for the fashion industry to showcase its wares and for men and women to indulge in fashion. Myer Fashion on the Field at Flemington has established its place as Australia's largest and most prestigious outdoor fashion event.
Flemington Racecourse is the centre of the action but there are plenty of great venues scattered throughout in Melbourne which is perfect for watching Australia's race that stops the nation. Melbourne's small bars and restaurants open its doors to horse race lovers to celebrate with good food and great wine. Whether you're looking to unwind or celebrate the day in style Melbourne offers drinks and dining experience to suit most tastes and budgets. Choose from a variety of food court fare from casual eateries to fine dining. Home to a wide variety of restaurants and bars Melbourne offers the best venue to celebrate Melbourne Cup and even spend Valentines Day in Melbourne with your loved one or family and friends.
Major events like the Melbourne Cup are a key driver of Victoria's tourism and trade. It generated more than 205,000 jobs and delivers more than $19 billion to the economy annually. The race attracted 46,000 interstate visitors with 7700 overseas tourist. The participation of international horses from five countries around the world benefited a number of industries. The racing industry is worth $8 billion with $1.7 billion generated from networking alone. Racegoers spent $31 million on retail and fashion. $28.4 million were spent on accommodation and $20.9 million in the food and beverage industry. The Melbourne Cup can be considered an international trade event when you consider all the revenues generated by the events.